When Emerge met Joseph, he confessed to having been offered our service many times before, being a regular attender at A&E, but had always declined. However, that night Joe was desperate and finally accepted our offer of support.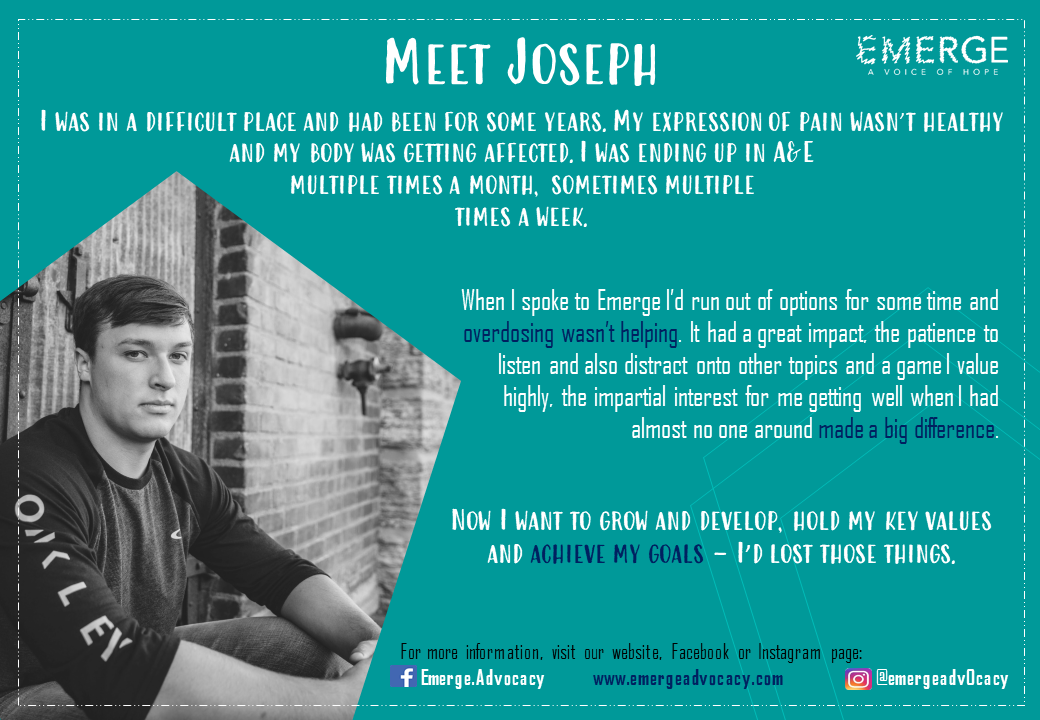 As you can see, Joe was going through a really tough time and felt like he was running out of options. He initially appeared very detached and when asked, said he just felt quite numb. As we sat and chatted he began to open up and tell us some of his story, where he had come from, what he had been through. It was a privilege to be able to sit with him in the midst of his pain and confusion and offer a respite, a moment of distraction and a whole lot of encouragement. He then began to open up about his hope and plans for the future and the numbness began to recede.
Over the course of the months that followed, we met regularly with Joseph, and as the weeks passed his head continued to clear and the things that give him life grew brighter and brighter as he pursued that hope. One of his biggest dreams for his own future is to be able to give back to the people who have helped him and you can see the passion and excitement in his face when he talks about helping others who are in the position he was once in. He is determined to give back, seeing the difference it made in his own life and wanting others to receive that same hope!
What I love about our time with Joseph is how clear the affects of speaking truth and life were in his situation. As Emerge we cheered him on and encouraged him every step of the way, but what made the biggest difference was when he took hold of that hope and began speaking that hope over himself, focusing not on the negative things of his past, but on the hope of his future.
We love this quote from Proverbs 15:4 – "When you speak healing words, you offer others fruit from the tree of life. But unhealthy, negative words do nothing but crush their hopes."
Our words have power, in the lives of others, but also in our own lives. What will you choose to speak over yourself today?